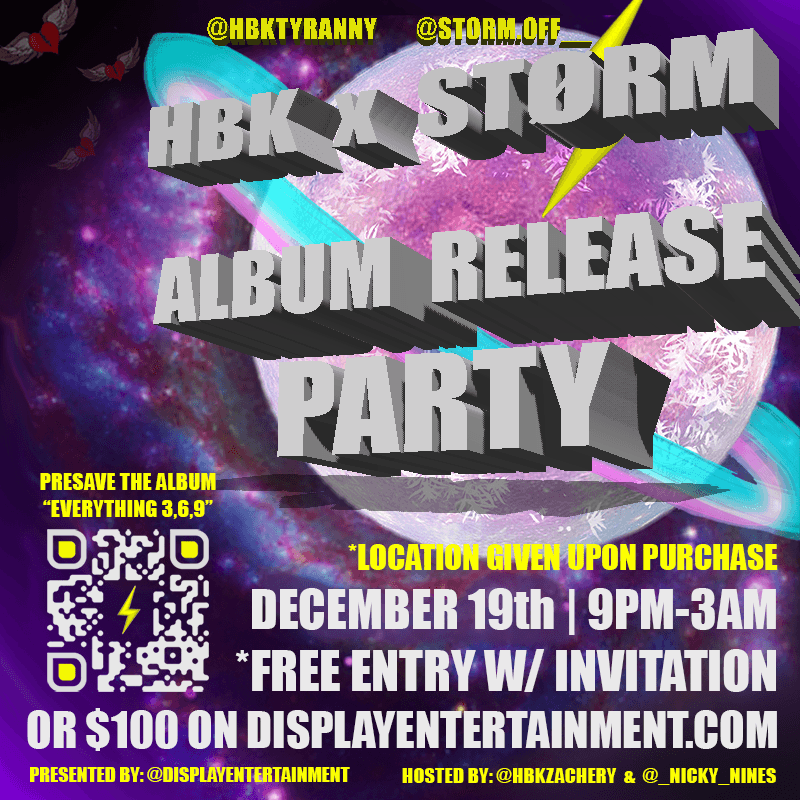 HBK x STØRM ALBUM RELEASE PARTY
LIMITING SPACE DUE TO COVID-19. GET PASS NOW!
SATURDAY,
DECEMBER 19TH
9PM-3AM
LEHI, UTAH. LOCATION GIVEN AFTER PURCHASE AND/OR DAY OF EVENT.
DETAILS:
Come celebrate the release of HBK and STØRM's 4 song EP "Everything 3,6, 9" which is set to drop on December 21st. Get to hear the project first while in good company in a Southern mansion.
u
GUESTS POLICY:
Free entry for those with an approved invitation. All other attendees must pay a cover fee of $100 to be added to the guests list. Each additional guests must purchase a entry pass online.
MUST BE 18+ YEARS OLD TO ENTER. NO REFUNDS.
PRESAVE THE PROJECT!
Follow the artists:
@hbktyranny
@storm.off__
Hosted By: HBK Zachery & Nicky Nines
Presented by:
Display Entertainment
MORE INFO CALL/TXT - 917.933.3735
*TERMS*
FOLLOW ALL CORONA VIRUS REGULATIONS. MASKS REQUIRED. BY ATTENDING THIS EVENT YOU ACCEPT ALL RISKS AND LIABILITY. DISPLAY ENT. IS IN NO WAY RESPONSIBLE FOR YOUR SAFETY AND HEALTH.
REQUEST FREE INVITE. (LIMITED)
DISPLAY ENTERTAINMENT BETA V2.6
CONTACT US AT 917.933.3735